My son needed a smock for school so I decided to sew one for him. Well, I am not a expert at sewing but I can tackle small projects... I don't know how to make a smock but I did make and apron... Didn't use a pattern, just cut and sew.....What do you think....???
Yeah, my lines are not that straight....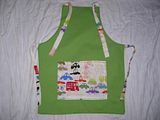 Do you think it looks good for a little 4 year old boy?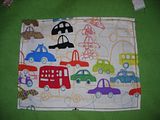 I love this fabric that I got for the pockets and straps. Alexander Henry..